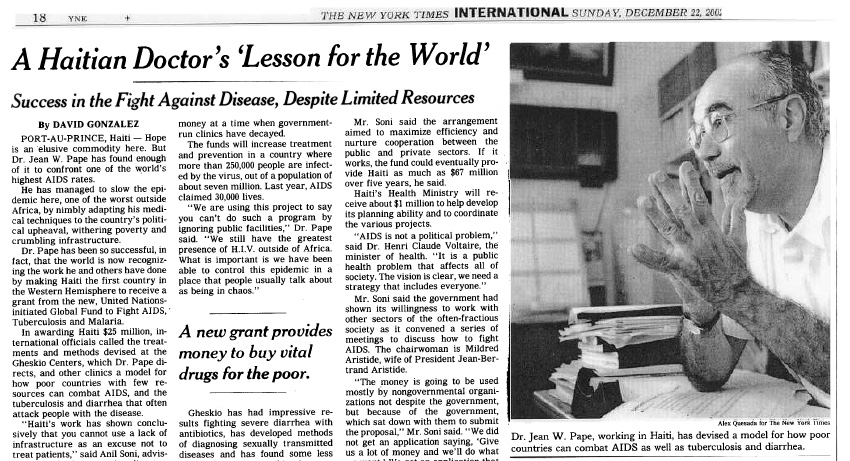 Solar Power for GHESKIO Centres – download concept paper  
August, 2020
Recycling tenofovir better than switch to second-line zidovudine
July, 2020
Retention in Care – PrEP – Tuberculosis Science and Community in the HIV Response in the Caribbean
May, 2019
Remarkable Results at GHESKIO provide blueprint for AIDS programming in developing nations: New York Times
April 19, 2016
10-Year Survival of Patients with AIDS Receiving Antiretroviral Therapy in Haiti: New England Journal of Medicine
February 11, 2016
Chelsea Clinton visits GHESKIO's women's empowerment programs
August 12, 2015
GHESKIO Reveals New Tuberculosis Hospital in Haiti
April 24, 2015
GHESKIO's new treatment centers highlighted in the New York Times
January 20, 2015
On World Health Day, President Michel Martelly recognized Dr. Pape for his commitment to the medical field in Haiti
April 11, 2014
GHESKIO is the recipient of the 2013 World Health Organization's Stop TB Partnership Kochon Prize in Tuberculosis
January 31, 2014
Vocational Training for Vulnerable Women in Haiti
January 17, 2014
The Making of PEPFAR
January 10, 2014
Weill Cornell Medical College Dean Laurie Glimcher visits GHESKIO
May 5, 2013
A New Dawn for the Village of God Community
April 7, 2013
Prince Albert II of Monaco Visits GHESKIO
March 12, 2013
GHESKIO and the Beginning of PEPFAR
July 18, 2012
Integrated Cholera control in Haiti published in the Lancet
June 7, 2012
Cholera vaccination program underway at GHESKIO
April 19, 2012
GHESKIO marks two year anniversary of the earthquake
January 13, 2012
News About GHESKIO's Earthquake Relief Efforts and How to Help
January 21, 2010
Journal of the Acquired Immune Deficiency Syndrome: Risk Factors for HIV Infection Among Haitian Adolescents and Young Adults Seeking Counseling and Testing in Port-au-Prince
September 4, 2009
Emerging Infectious Diseases: Slave trade and hepatitis B virus genotypes and subgenotypes in Haiti and Africa
August 30, 2009
The New England Journal of Medicine: 5-year survival of patients with AIDS receiving antiretroviral therapy in Haiti
August 20, 2009
msnbc.com: From Haiti, a surprise: good news about AIDS
July 6, 2009
The American Journal of Tropical Medicine and Hygiene: High Early Mortality in Patients with Chronic Acquired Immune Deficiency Syndrome Diarrhea Initiating Antiretroviral Therapy in Haiti: A Case-Control Study
June 30, 2009
Journal of Healthcare for the Poor and Underserved: Knowledge, attitudes, and behaviors among a sample of HIV-positive and HIV-negative females visiting an urban VCT center in Haiti
May 31, 2009
The Fogarty International Center: Haiti's New Research Corps – Building on Past Successes
April 30, 2009
A feeding education program to prevent mother to child transmission of HIV in Haiti
March 30, 2009
High Mortality among Patients with AIDS Who Received a Diagnosis of Tuberculosis in the First 3 Months of Antiretroviral Therapy
March 15, 2009
Haiti's Successful Fight Against AIDS
The Warren D. Johnson Jr. Medical Center Inaugurated in Haiti
February 23, 2009
High Mortality among Patients with AIDS who Received a Diagnosis of Tuberculosis in the First Three Months of Antiretroviral Therapy
February 10, 2009
GHESKIO to Open the Warren D. Johnson Jr. Medical Center in Haiti
Survival, plasma HIV-1 RNA concentrations, and drug resistance in HIV-1 infected Haitian adolescents and young adults on retrovirals
December 31, 2008
Improving outcomes in infants of HIV-infected women in a developing country setting
November 14, 2008
Food Shortages Pose Obstacles to HIV/AIDS Treatment in Haiti
November 4, 2008
GHESKIO Opens Multi-drug Resistant Tuberculosis Treatment Site
October 13, 2008
Meager Living of Haitians is Wiped Out by Storms
September 11, 2008
In lagging Haiti, First Lady finds positive signs
March 14, 2008
First Lady Laura Bush Visits GHESKIO
March 13, 2008
The epidemiology of AIDS in Haiti
March 11, 2008
The cost of antiretroviral therapy in Haiti
February 14, 2008
The Francois Canez Auguste Foundation recognizes GHESKIO as a national treasure
December 27, 2007
Potential of a simplified p24 assay for the early diagnosis of infant HIV-1 infection in Haiti
August 1, 2007
25 Years in Haiti: Experiences of the GHESKIO Center
June 12, 2007
Cost-effectiveness of rapid syphilis screening in prenatal HIV testing programs in Haiti
May 29, 2007
Rapid syphilis testing in Haiti will prevent will prevent congenital disease and stillbirths
May 28, 2007
Antiretroviral therapy for HIV-1-infected children in Haiti
May 15, 2007
Dr. Jean Pape honored with Distinguished Service Award from Global Health Education Consortium
March 12, 2007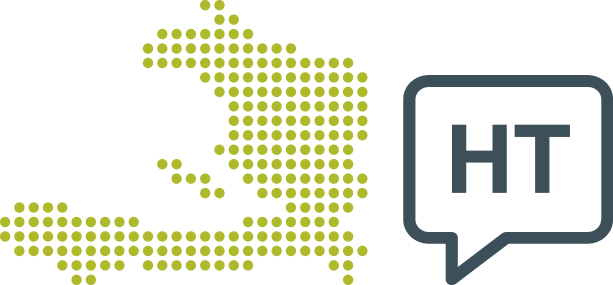 The estimated population of Haiti is 11.1 million people.
1983
GHESKIO has received uninterrupted funding from the NIH since 1983.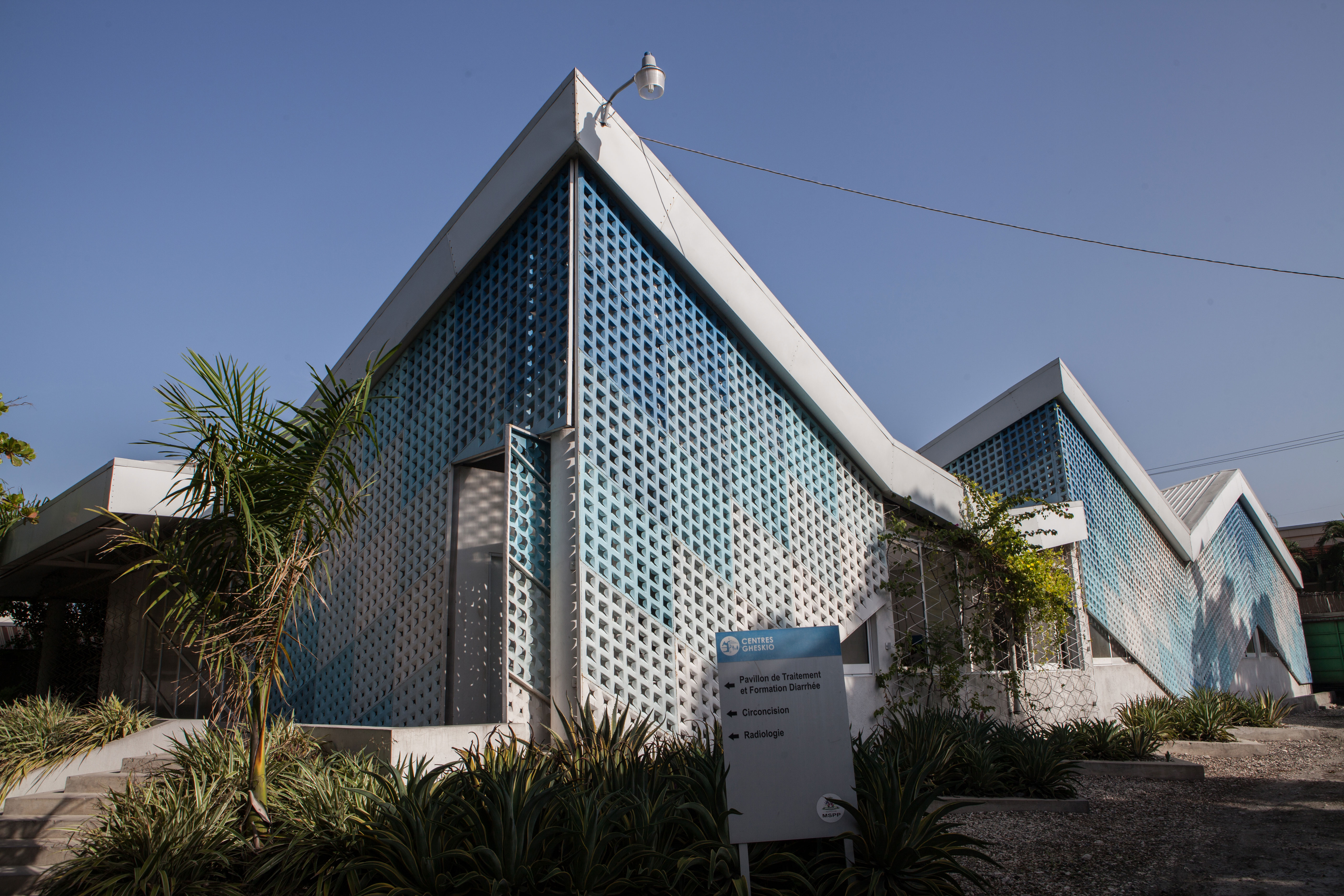 Haiti's 2010 cholera outbreak was the worst the world has suffered this century. However, thanks to much dedication, Haiti has not experienced a single case of cholera in three years.   Haiti's Ministry of Health (MOH) led a plan that evolved with the epidemic,...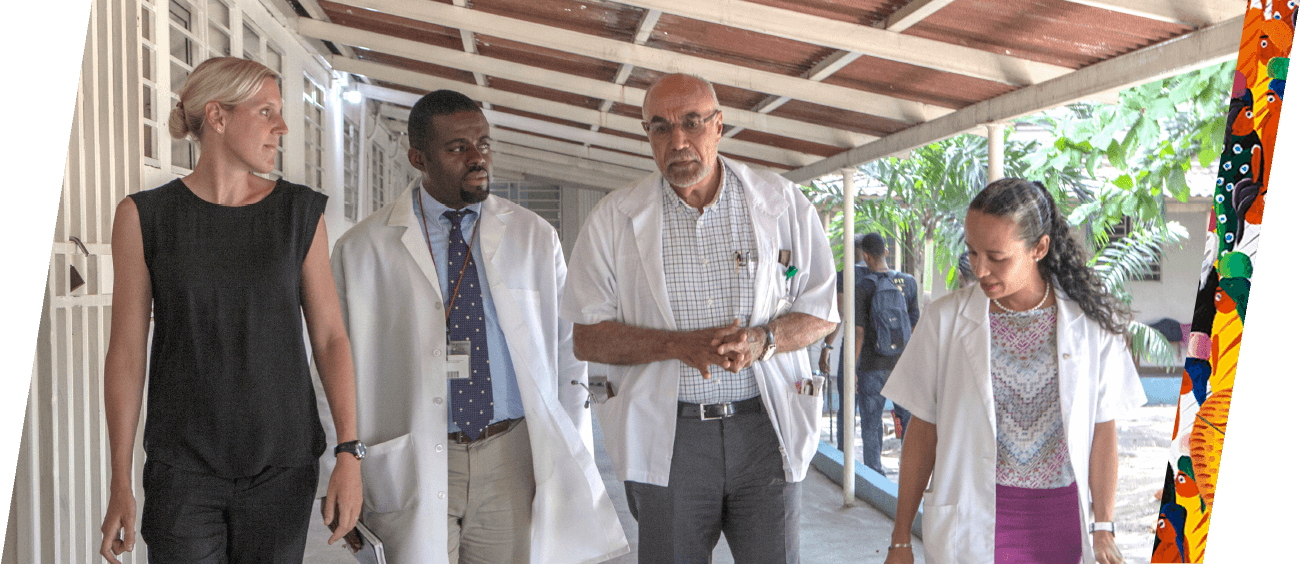 The community knows us for the last 33 years. They know it's their institution.