CONTINUOUS NIH SUPPORT SINCE 1983

The GHESKIO Centers in Port-au-Prince, Haiti has been affiliated with Weill Cornell Medical College since its inception in 1982.
GHESKIO has been conducting groundbreaking research with international impact since 1983, when they published the first description of HIV/AIDS in a developing country in the New England Journal of Medicine.
For the last 35 years, GHESKIO investigators have been conducting research studies to improve the care of patients with HIV, tuberculosis, and related infections.  During the 1980s and 1990s, before antiretroviral therapy was developed, they worked to understand how to prevent transmission of the HIV virus and how to most effectively prevent and treat opportunistic infections and other complications of HIV/AIDS. For the past 15 years, since lifesaving antiretroviral therapy became available for the treatment of HIV, they have conducted studies to understand how to provide the highest possible quality of patient-centered care to maximize the survival and well-being of persons who are living with HIV. GHESKIO investigators have published over 200 peer-reviewed papers.  Their research productivity has been recognized with uninterrupted support from the National Institutes of Health since 1983 including a MERIT award, a Clinical Trials Unit (CTU), and a TB Research Unit (TBRU).
TB Research Unit
The multi-project program is supported by a contract from NIAID, the Weill Cornell CTSC, and the Milstein Foundation. This program is studying the ability of M. tuberculosis to resist elimination by the human immune system during latency and by antimicrobials during drug treatment. Dr. Fitzgerald is the TBRU Clinical Core Director responsible for recruiting and characterizing unique cohorts in Haiti, including families with multiple siblings with TB, people who are resistant to TB infection, and longitudinal cohorts of patients with MDR-TB. Other TBRU projects are led by world-class investigators from Weill-Cornell, GHESKIO, Memorial Sloan Kettering, and the Rockefeller University with multiple cross-disciplinary collaborations.
The World Health Organization estimates that about one third of the world's population has a latent M. tuberculosis infection (LTBI). Among them, a minority that cannot be identified prospectively will develop reactivation tuberculosis (TB) despite having apparently normal immunity. The ability of M. tuberculosis to remain latent within the human host, and the related failure of the human immune system to sterilize M. tuberculosis in latently infected individuals, are poorly understood.
Antimicrobial therapy for active infection by drug-sensitive Mtb is effective, but current drugs must be given for 6 months to achieve relapse-free cure rates of >95%. Despite substantial efforts to understand these two critical features of M. tuberculosis infection—latency and persistence—fundamental questions remain about the genetic, immunologic, pharmacologic, and microbiologic contributors to both.
Care for HIV infected Adolescent Girls
Since 2004 the number of adult HIV-related deaths in the world decreased by 30% as antiretroviral therapy (ART) expanded. However, during the same period, HIV-related deaths for adolescents increased by 50%. Adolescents account for 40% of all new HIV infections in Haiti, and 80% of these occur among sexually-active girls, many of whom live in poverty with little protection from high risk behaviors. The HIV incidence rate among girls age 16-19 in slums of Port au Prince is 1% per year, which is comparable to the incidence in high-risk groups such as commercial sex workers.
ART with other medical and behavioral interventions can prolong the life of persons living with HIV and prevent them from transmitting HIV. However, the social factors which lead to HIV infection (poverty, unstable families, and gender inequality) coupled with high-risk taking adolescent behavior creates a "perfect storm" hindering intervention. Clinical interventions have been only partially effective at stemming the effects of the disease because of lower adherence to treatment among adolescents relative to adults, In Haiti and other resource-poor countries, HIV-infected adolescents are three times more likely to be lost to care than adults, with only ~50% of HIV-infected teens remaining in care at one year.
In 2014 Cornell-GHESKIO piloted an innovative model of care, FANMI (My FAMILY), to improve retention among HIV-infected adolescent girls. Adolescent girls attend monthly HIV care in cohorts of 5-8 peers to address social isolation, gender inequality, and unstable families. HIV care takes place in a community center rather than in a medical clinic to strengthen social support and decrease stigma. Each monthly visit integrates clinical care, group counseling, and social activities in a single session by the same provider to simplify care and strengthen the relationships between peers and providers. Data suggest that FANMI dramatically improves retention compared to adolescent girls receiving standard care at GHESKIO.
NIAID HIV Clinical Trials
Dr Jean Pape is the GHESKIO Principal Investigator (PI) and Dr. Fitzgerald the Cornell Co-PI of the Haiti NIH-sponsored CTU conducting studies with the AIDS Clinical Trials Group (ACTG) and International Maternal, Pediatric, and Adolescent AIDS Trials Group (IMPAACT). This program covers 8 NIAID therapeutic trials, including studies to shorten TB treatment with rifapentine-containing regimens, prophylaxis for household contacts of people with MDR-TB, rifapentine-containing prophylaxis for pregnant women with latent TB, and intensive early antiretroviral treatment of infants to achieve remission.
Clinical trials often take 5 years to conduct and involve scores of investigators and are beyond the scope and timeline of an individual trainee's project. However, we have found that well-defined participation with ~ 10 – 20% effort is extremely beneficial for our trainees. Trainees learn about the rigor of NIH clinical trials, recruitment and retention strategies, good clinical practice, clinical trial design, data collection tools, and advanced laboratory assays. Trainees attend network meetings and meet leaders in the field. The rigor and knowledge gained from participating in the clinical trials is transferred to the conduct of the trainees' own research, and trainees are prepared to assume leadership roles in future NIH multi-center clinical trials.
CARDIOVASCULAR DISEASE
Cardiovascular disease (CVD) is now the leading cause of mortality in Haitian adults. Cardiovascular diseases, including myocardial infarction, heart failure, stroke, and cardiac death, are the leading cause of adult mortality in Haiti, but little is known about disease onset, time course, and risk factors such as hypertension and harmful diet.
Preliminary data suggest that hypertension is the single most important CVD risk factor in Haiti and may be driven by poverty-related social and environmental determinants. However, the prevalence, incidence, major risk factors, and social and environmental determinants are unknown. Longitudinal cohort studies are urgently needed to address these knowledge gaps to develop interventions to prevent CVD and improve health outcomes of Haitians in both Haiti and in the U.S.
GHESKIO is currently working on research to fill this gap by establishing a longitudinal cohort to study the natural history of CVD in Haiti. The cohort will include 3,000 adults >18 years of age in Port-au-Prince using multistage random sampling, and will follow them for 2–3.5 years, depending on the timing of study enrollment.
We anticipate that hypertension prevalence will be ≥10% in 18–30 year olds, that hypertension incidence will be >10 events per 1,000 person years, and that both prevalent and incident hypertension will be associated with poverty-related social and environmental determinants. We will also examine the association of determinants and risk factors with CVD.
SPECIFIC AIMS OF THE STUDY:
Establish a population-based cohort of 3,000 adults in Port-au-Prince and assess the prevalence of CVD risk factors and diseases and their association with social and environmental determinants.
Cardiovascular risk factors include hypertension, diabetes, obesity, dyslipidemia, kidney disease, poor diet, cigarette smoking, physical inactivity, and inflammation.
Cardiovascular diseases include myocardial infarction, heart failure, stroke, and CVD mortality.
Determinants include stress, social isolation, depression, food insecurity, and lead exposure.
Determine the incidence of CVD risk factors and diseases and their association with social and environmental determinants.
This study will provide important insights into the epidemiology of CVD in Haiti. Our ultimate goal is to translate new research findings from this study into pragmatic prevention and treatment interventions to fight the CVD epidemic in Haiti and in Haitian immigrants in the U.S.
1983
GHESKIO has received uninterrupted funding from the NIH since 1983.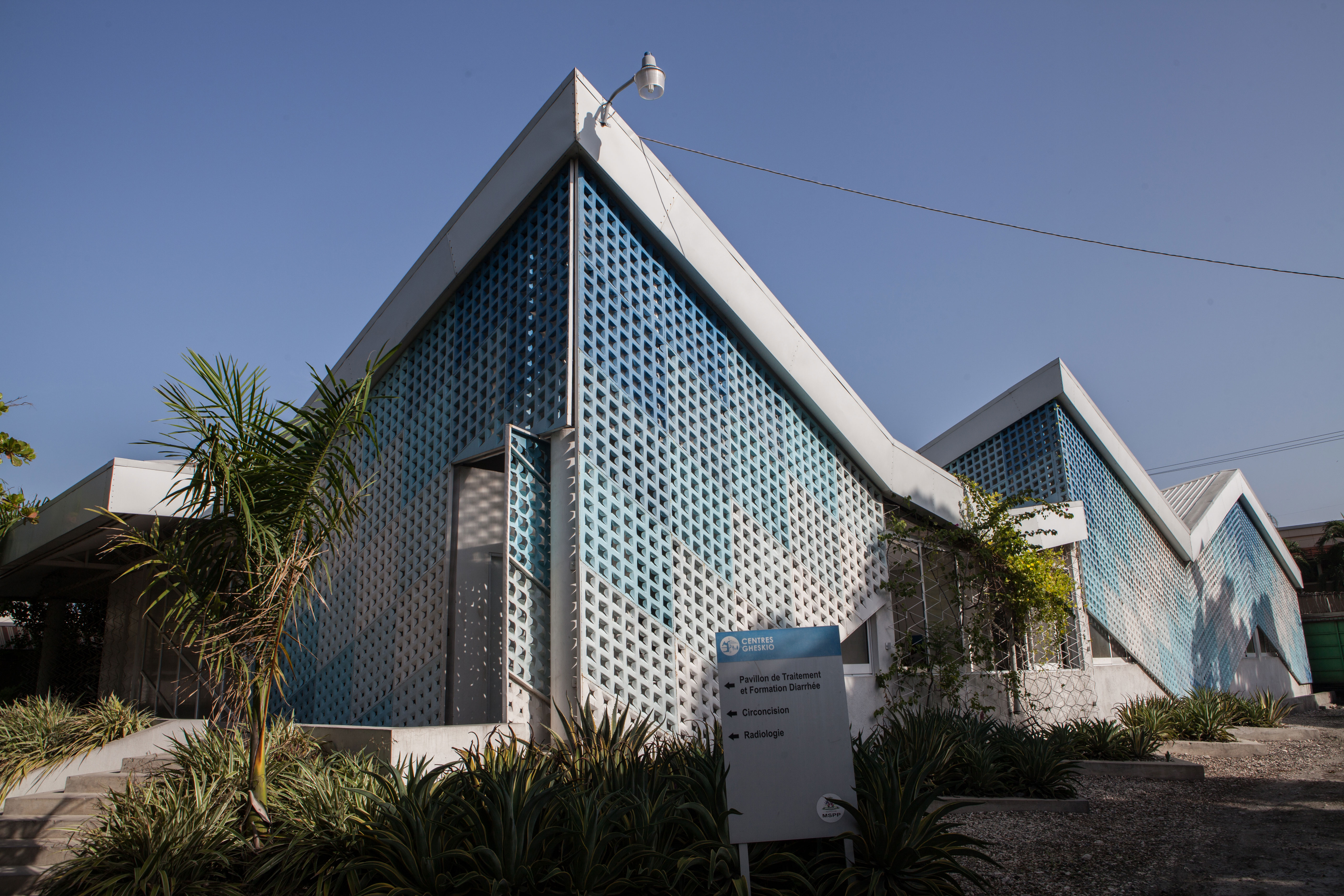 Haiti's 2010 cholera outbreak was the worst the world has suffered this century. However, thanks to much dedication, Haiti has not experienced a single case of cholera in three years.   Haiti's Ministry of Health (MOH) led a plan that evolved with the epidemic,...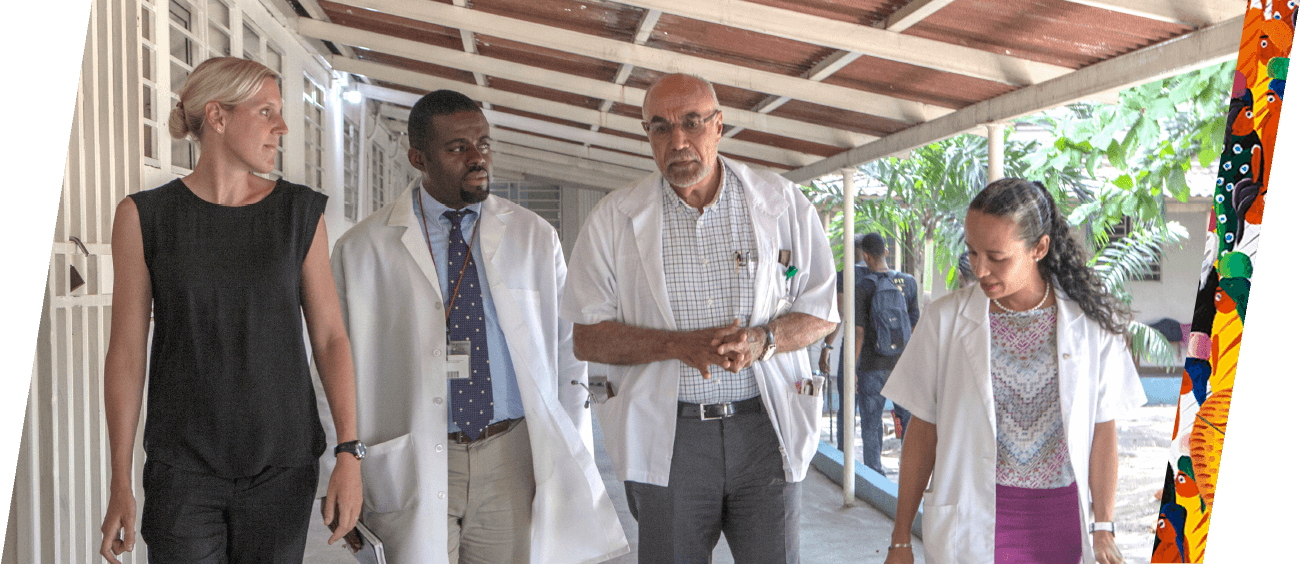 The community knows us for the last 33 years. They know it's their institution.